Case 31: The Rotary Password Door
32.

Case 31: The Rotary Password Door#
32.1.

Introduction#
---
The selected password can be adjusted by the potentiometer and confirmed by the crash sensor. If two consecutive passwords are entered within the correct range, the password door will open. Perhaps we can use this device to make some decryption plots to make the game more interesting.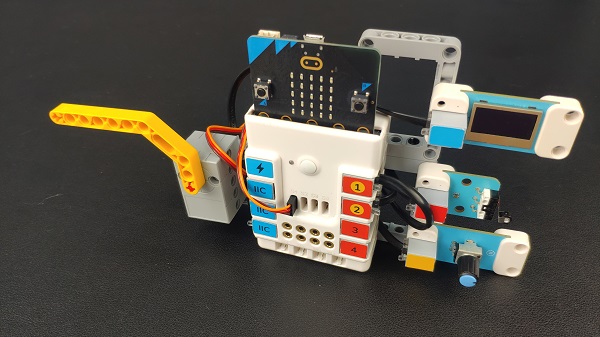 32.2.

Quick Start#
---
Materials Required#
Nezha expansion board × 1
micro:bit V2 × 1
Trimpot × 1
Servo × 1
Crash sensor × 1
OLED display × 1 (It requires to be purchased as standalones.)
Bricks × n
Tips: Purchase Interactive coding accessories pack here.
Connection Diagram#
Inset the micro:bit, connect the OLED display to IIC port, the servo to S1, the trimpot to J1and the crash sensor to J2 on Nezha expansion board.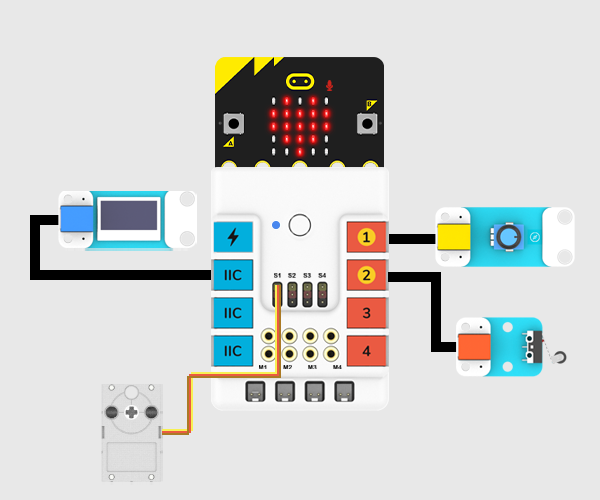 32.3.

MakeCode Programming#
---